Features
Male Jewellery – The state of the market
Lewis Catchpole hears about the current state of the male jewellery market and asks if it could ever compete with the size of the traditional women's jewellery segment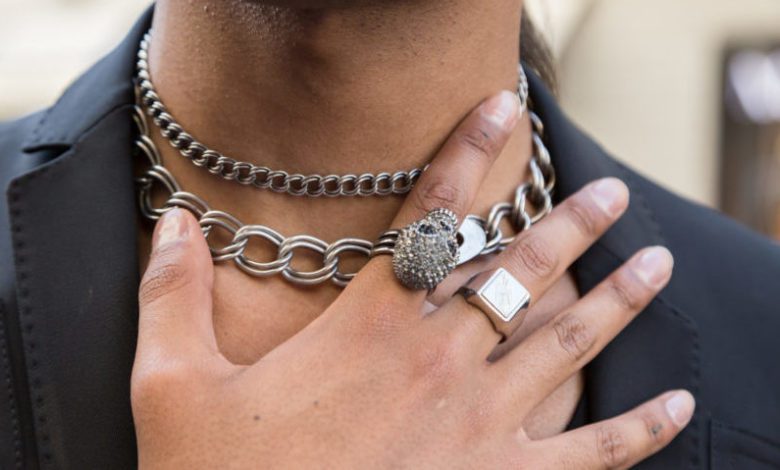 "You only have to look at the ubiquity of tattoos to understand how much men want to express their personality and individuality. Men's jewellery is like a tattoo that can be taken off at the end of the day. Jewellery is a way of speaking before you do. It communicates individuality but also non-conformity," says men's style aficionado and author of upcoming book 'Jewelry for Gentlemen', James Sherwood.
Men's jewellery has dipped and soared in popularity since the very beginning of fashion history, but the past few years has seen a new peak for the popularity of male jewellery. Men are now wearing brooches, necklaces, rings, bracelets as everyday wear as they strive for various ways to express themselves in a modern age.
Henry Graham, creative director and co-founder of Wolf & Badger sees the development of men's jewellery as a filtering-down process led by jewellery's presence in pop culture. He says: "These changes have been influenced by pop culture, which has in turn filtered to the catwalk and then by extension to the high-street and big name stores."
Data from market research company Mintel shows that over the past five years 48% of men purchased rings for themselves, 32% purchased bracelets/bangles for themselves, 47% purchased necklaces for themselves. "Men of all ages in the public eye are unafraid to wear significant pieces of jewellery – I'm thinking about Will Smith, Lewis Hamilton, Alexander Skarsgard and Lucky Blue Smith – and serve as role models and encouragement for men to think about wearing fine jewellery," says Sherwood.
"Will Smith started wearing double diamond earrings a couple of decades ago and now nobody would look twice at a guy wearing gem-set ear studs whether they are diamond or synthetic. The historic high jewellery houses have seen the demand for men's jewellery [increase] and you'll notice that the offer for men on the websites of Cartier, Tiffany & Co, Van Cleef & Arpels and Boucheron has significantly increased from just wedding bands and cufflinks."
Men wearing double diamond earings and fine jewellery are not the only indicators of the growth over the years in the market, however. Chana Baram, a retail analyst at Mintel points towards the growth of interest in male fashion jewellery, with sales having doubled over the past two years.
She says: "We are seeing a growing trend towards men taking more care of their look and appearance, which has translated into more male interest in several fashion categories, such as bags and footwear and jewellery. Similarly, while fewer women are purchasing fashion/costume jewellery, we have seen a significant rise in young men buying this category." She says some 18% of men aged 16-34-years-old bought costume jewellery in the 12 months leading up to October 2017, compared with just 9% in the same period in 2015.
The current state of the market
Baram says data currently points to a significant increase of activity focused online and specifically aimed towards the men's market. "Currently men are more likely than women to look at social media for jewellery inspiration, at 40% compared to only 31% of women. Men are looking towards stylish celebrities for inspiration, with people frequently photographed wearing fashion jewellery such as bracelets, rings and long necklaces. We have certainly noticed a trend in men purchasing bangles, rings and bracelets for themselves."
She adds because of this notable increase in activity many jewellery stores are starting to take note themselves. "Several brands are responding to this upsurge in men's jewellery," she says, "Thomas Sabo recently opened a dedicated men's jewellery suite in its London flagship store, and on its social media pages there are ideas for both men and women."
It is something that Sherwood has also noticed personally while travelling around the world and sampling what major jewellery brands have to offer. "I was fortunate to visit David Yurman in New York while researching Jewelry for Gentlemen and the house has to be producing the largest collection of men's jewellery in the world right now. Creative director Evan Yurman told me that the next step would be to open a men's standalone store in New York and, eventually, in London.
"I know that Stephen Webster was also the first jeweller in Harrods to open a concession dedicated exclusively to men's jewellery in 2017. If we're getting to the stage where jewel houses want to dedicate spaces and flagships to men's jewellery then this proves that it is a growing market that deserves investment and isn't slowing down."
Interestingly, the move towards genderless jewellery is also making an impact on the male jewellery market with tastes in colour, material and design merging between the sexes. Women are said to be opting for more texture and matte finishes normally akin to male accessories while men increasingly prefering to opt for sparkle and high polish.
Sherwood elaborates. "I am intrigued," he says, "by Brazilian jeweller Ara Vartanian's London flagship, where jewellery isn't necessarily classified as men's or women's jewellery. It is just jewellery that speaks to the customer and compliments their aesthetic. The gender fluidity of the Millennial generation hasn't passed the jewellers by and the lack of judgement about whether a piece is masculine or feminine will only increase the market for fine jewellery."
He continues: "We see designers like Giambattista Valli wear a pearl necklace these days and Marc Jacobs wearing antique Grima that would have been set for a woman. The rules of masculinity and femininity are breaking down and the jewellers are naturally not going to restrict the appeal of a piece by saying definitively it is designed for a man or a woman."
Current and future trends
London jewellers Shaun Leane, Stephen Webster and Solange Azagury-Partridge have all produced collections exclusively dedicated to men in the last five years with an emphasis on gem-set precious metal. This is seen as a reflection that men are trading-up from wristfuls of ethnic beads and woven twine to serious fine jewellery.
Graham explains how he is seeing a strong and growing demand for male jewellery pieces, and how designers that he works with are moving into more and more experimental ways of showing their designs on the male customer. "The main trends," he says, "are toward rings and bracelets. The former has been a shift toward bigger and more detailed statement rings, for the latter we have seen lots of designers creating collections of bracelets that can be layered with one another to create a dynamic look. I see more traditional, big name jewellery designers creating capsule collections of their popular and iconic lines focussed purely on a new male customer."
"My favourite trend in men's jewellery is the black tie brooch. It has been popular in America and Asia for a while but now we're seeing fine antique brooches being reconsidered as lapel pins on red carpets be that the Met Gala, the Oscars or the BAFTAS", says Sherwood, offering his personal view. "It could be interesting for a man and a woman – or a man and a man – to share a piece of jewellery such as a black tie brooch. I think the tie slide made popular by the show 'Mad Men' has opened the door for stickpins and tie studs which are invariably more elaborate and make more of a statement."
Sherwood believes there has been a revival in the unisex Cartier Love bracelets often worn on the wrists as a 'love token'. Men are now starting to wear precious metal bracelets and he perceives it to be as commonplace today as men wearing multiple rings.
Luxury jewellery will be also be at the forefront of the future male trends, it is thought, with the 16th edition of the Bain Luxury Study finding that the luxury market grew by 5% to €1.2 trillion globally last year, with growth in a broad array of industries including the jewellery market, with growth expected to continue.
Leading the charge is expected to be the return of the signet ring, although Sherwood explains that it won't be signet rings as we currently know them. "Signet rings have been enjoying a revival now there isn't the snobbery about having an ancient family crest. Men are inventing their own crests that relate to their lives and likes. But I think the next big trend will be the right hand ring worn on the little finger. It is a counterpoint to the signet ring on the other hand and there will be the licence to order a major statement piece of jewellery that might be gem-set.
"I think the jewellery business truly comes alive when the client and the jeweller work together on a bespoke piece and the indications are that men are particularly keen to commission pieces of jewellery that are unique to them. That's the appeal of the signet ring. Perhaps signet rings will lead to right hand rings because once you've caught the bug for bespoke jewellery, it is incredibly hard to resist ordering more."
Overall Sherwood believes the demand is for personal pieces of jewellery that a man can wear without looking as if the jewellery is wearing him. He also describes how that young men can wear a lot of jewellery nowadays without looking "weighted-down as men did in the 1970s". He adds: "There's a delicacy in the design of bracelets, pendants, rings and earrings that make it possible to layer multiple pieces of jewellery without looking like Karl Lagerfeld."
Will male jewellery ever become the dominant market?
If men's jewellery follows men's fashion, there is every indication that the market has room to grow. We have heard how more men are investing in fine jewellery, but to date, pieces designed for men tend to be relatively modest and do not feature the blaze of large stones seen in the Bond Street windows aimed at the female customer.
Sherwood does not think the category will overtake. "Men's jewellery tends to top-out at £20,000 which can't compete with the multi-millions paid for women's gem-set jewellery at Graff and Moussaieff for example. So the margins alone would prevent the men's market competing with female jewellery."
When posed the same question Graham is emphatic. "I do not believe so," he says. "Although the male customer demand for jewellery is definitely growing, women simply like to shop more and that will remain the case, I can't see it changing."